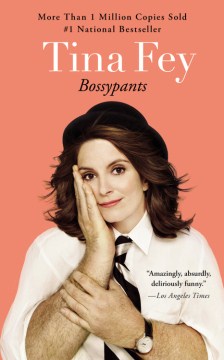 Bossypants
Publication Date:4/5/2011
Copies Owned: 2
Available: 2
Details and Reviews
Publisher : Hachette Book Group USA
Attribute:
Text to Speech Enabled

Synopsis:
From her youthful days as a vicious nerd to her tour of duty on Saturday Night Live; from her passionately halfhearted pursuit of physical beauty to her life as a mother eating things off the floor; from her one-sided college romance to her nearly fatal honeymoon, comedian Tina Fey reveals all, and proves that you're no one until someone calls you bossy.
Average Reader Rating:
(0 Reviews)
Industry Reviews:
BOOKLIST
*Starred Review* Don't judge a book by its cover, or then again, maybe, in this case, do. Fey herself, hair gracefully...
Kirkus
One of the world's cleverest comedy writers debuts with a frequently hilarious memoir. Perhaps best known to mass...
Reader Reviews: