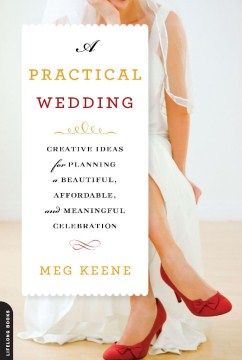 Practical Wedding : Creative Ideas for Planning a Beautiful, Affordable, and Meaningful Celebration
Publication Date:12/27/2011
Copies Owned: 1
Available: 1
Details and Reviews
Publisher : Perseus Book Group
Attribute:
Text to Speech Enabled

Synopsis:
Provides practical information on planning a simpler, economic and stress-free wedding, covering such topics as budgets, venues, food, writing wedding vows, and unpredictable occurrences.
Average Reader Rating:
(0 Reviews)
Industry Reviews:
BookPage
A day to remember Bargainista Bride by Aimee Manis is a compact, no-nonsense guide to creating a "simple and authentic...
Cahners
Keene's wedding planning guide is a fresh, sane voice in a field of guides pushing big budget weddings. Keene, feeling...
Reader Reviews: